SCB Julius Baer Celebrates Official Launch - SCB Julius Baer The Symphony of Trust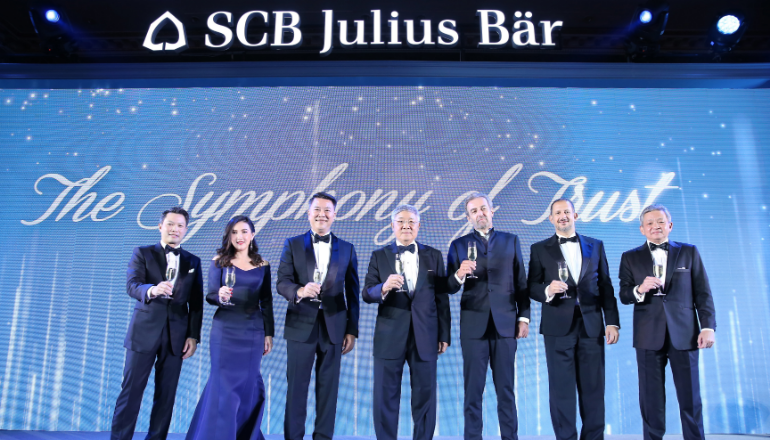 SCB-Julius Baer Securities Co., Ltd. (SCB Julius Baer) celebrated the official launch of global wealth management and world-class financial planning services in Thailand with a "SCB Julius Baer Symphony of Trust" Gala Night at the Oriental Bangkok's Royal Ballroom. Honored by the presence of some 150 high net-worth individuals (HNWIs) in Thailand, the exclusive event started with the Bangkok Symphony Orchestra performing under the theme of "Symphony of Trust," conveying a perfect harmony of trustworthiness, expertise, and experience in finance and banking of Siam Commercial Bank, the first Thai bank, and Julius Baer, the Swiss leader in global wealth management. Following the music came a fine dining experience and wine pairing created by Le Normandie. The event was wrapped up nicely with an exclusive private Michael Bolton concert.
Siam Commercial Bank (SCB) Chairman of the Board Dr. Vichit Suraphongchai remarked, "SCB and Julius Baer are both heritage companies with histories of over a century. This reflects our clients' trust from generation to generation, a key to strong and sustainable success in banking and wealth management services. SCB Julius Baer is a perfect harmony combining the strengths of two leading companies from two corners of the world. That is, Julius Baer's expertise, experience, capabilities, and services in global wealth management combined with SCB's strength as Thailand's leading bank with a deep understanding of HNW clients. We are ready to offer new tailored-made services to best suit each client's needs and requirements to effectively grow their wealth beyond frontiers."
Julius Baer Group Honorary Chairman Raymond J. Baer said, "As SCB Julius Baer officially launches wealth management services to serve HNW clients in Thailand, it is our great pleasure to welcome honorable guests this evening. This cooperative effort emphasizes Julius Baer's determination in doing business in Asia, our second home. Particularly, Thailand is among the top on our priority list to expand services to lay a foundation for long-term private banking services. We are delighted with our partnership with SCB. Thanks to SCB's strong network of HNWIs in Thailand and deep understanding of their needs and behaviors, we hope to extend our client base and services to Thailand quickly and more effectively. We have now introduced operations and client services of the same standards as Julius Baer worldwide to SCB Julius Baer clients here in Thailand. They can place their trust in our potential and our advisory service for borderless investment opportunities with our worldwide Julius Baer network. To offer the best financial and investment planning and product selection, our experts in each country have real knowledge and understanding of financial and investment products."
SCB-Julius Baer Securities Co., Ltd., Chief Executive Officer Jiralawan Tangitvet said, "SCB-Julius Baer Securities Co., Ltd. is a symbol of clients' trust in our service potential and commitment to cater to HNWIs in Thailand by providing global wealth management with Julius Baer's knowledge, expertise in strategic planning, network, and experience in taking care of HNWIs worldwide. Through the partnership, we can offer wealth management and investment options across a comprehensive range of platforms, from portfolio management to a variety of alternative assets. Furthermore, our team of professional investment advisors based in Thailand can work with and take care of clients closely, to help them adapt their investment plans to any global market conditions and achieve their investment goals in a timely manner."
"The SCB Julius Baer Symphony of Trust Gala Night is both a celebration of our official launch and a way to welcome our distinguished Thai guests. The vibe and event decorations reflect a harmonious cultural blend, including an exclusive wine tasting session featuring wines exclusively produced and consumed in Switzerland. Only a few people here in Thailand have such a rare chance of wine tasting along with a specialized dinner menu. This evening's highlight is a private concert featuring Michael Bolton, plus an exclusive photo session and talks with the guests. This is just the beginning of the exclusivity SCB Julius Baer will offer to our distinguished clients." Jiralawan added.
For more information about borderless wealth planning and growth, please visit www.scbjuliusbaer.com
Latest News