SCB Julius Baer launches first-of-its-kind Wealth Report Thailand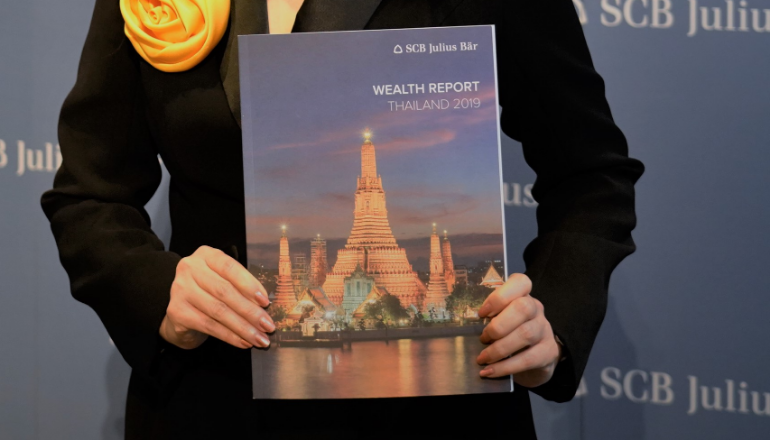 SCB Julius Baer launches first-of-its-kind "Wealth Report Thailand"
and officially brings Thai HNWIs borderless, customized wealth management services
(Bangkok/Hong Kong/Singapore/Zurich, 12 June 2019) – SCB - Julius Baer Securities sets to open up a new horizon in borderless world-class strategic wealth management services customized for high net worth individuals (HNWIs) in Thailand, allowing HNWIs in Thailand to maximize return on investment in the global market, as well as to enjoy the impressive experience of international services with Thai touch backed by international expertise in strategic investment.
The company also releases its inaugural edition of the Wealth Report Thailand 2019, focusing on the wealth management landscape in Thailand. Based on a survey of 351 HNWI clients' information and opinion, the report takes a holistic look at Thai HNWI clients' attitudes towards wealth and investing, both onshore and offshore and specific investment behavior of each investor category. The report examines the outlook for the domestic economy and tracks the luxury expenditure trends of Thailand's HNWIs. It also forecasts that from 2015-2020 the HNWIs segment will see 9.9% Compound Annual Growth Rate (CAGR), or value increase of USD401.2 billion and that SET Index will reach 1,800 points by Q3/2019.
Mrs. Jiralawan Tangitvet, Chief Executive Officer of SCB Julius Baer, said, "Thailand's HNWI market segment has enjoyed high growth rate in the past few years. We expect this growth trend will continue and that means tremendous opportunity. SCB Julius Baer, a joint venture between SCB and Julius Baer, is ready to bring to HNWIs in Thailand borderless wealth management solutions, the offerings that Julius Baer is famous for.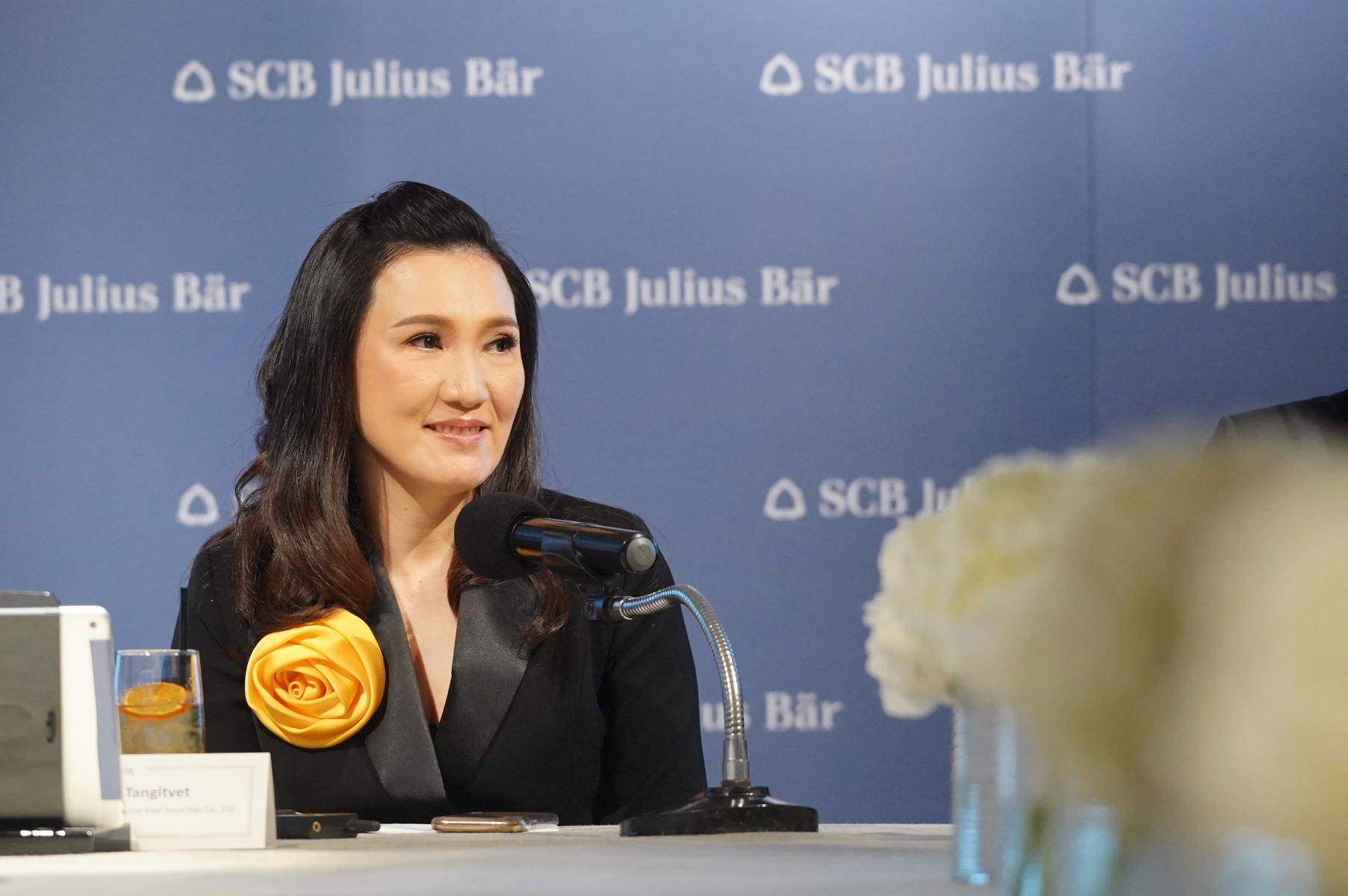 "Julius Baer is the Swiss-based wealth management company and one of the four largest private banks in Asia. The company's Open Product Platform has been entrusted by HNWI customers worldwide as it gives freedom for customers to invest in any product and market. This is the first time for Thai investors to have easy access to offshore investment opportunity and choose to invest in specific stocks or other alternative assets, without being limited to making investment through mutual funds or products offered by any specific company.
"When combined with Julius Baer's sharp analysis on rapidly changing economic situation backed by real-time insights from Julius Baer's experts around the world, we are able to offer customized investment plan and risk management strategies that generate the best possible return on investment for our clients, regardless of market situation, and enable them to achieve their wealth management goals," she added.
SCB Julius Baer is also a world-class one-stop wealth management service provider offering global-standard services. It provides extensive services ranging from wealth structure, tax, relocation, retirement plan, succession plan and philanthropy.
"One of our strengths is our expertise and experience driven by SCB's true understanding of Thai HNWI customers' need. The seamless Thai touch service at a single point of contact for all wealth management needs is offered," said Mrs. Jiralawan.
By "Thai Touch", SCB Julius Baer provides services backed by two teams: 1) Wealth Management Service Team by Relationship Managers (RMs) and, 2) Product Team which comprises investment advisory and fund managers. In addition, the company has a large support function, consisting of 62 members of experts from legal, finance, operation and HR departments. The team, based in Thailand, has been well trained and becomes highly capable professionals who are ready to provide the clients with the services at the same standard offered by other world's leading financial institutions.  SCB Julius Baer's team is ready to help clients achieve every need and investment goal.
To emphasize its commitment to drive this business in Thailand, the company launches
"Wealth Report Thailand 2019", the first of its kind on the Thai wealth market. The report is the fruit of the integration of the advantages of the two joint venture partners – SCB's insightful understanding and close relationship with Thai HNWI customers, which contributes largely to the survey on customers' behaviour and attitudes, and Julius Baer's world-class wealth report preparation. 
Wealth Report Thailand 2019 unveils essential information from the insights about HNWIs' demand which enables SCB Julius Baer to better understand the clients and sees greater opportunity in designing comprehensive financial plans that help clients achieve their investment goals.
The company also plans to organize seminars in major cities to share with HNWIs nationwide
the insights from the Wealth Report Thailand, investment trend and opportunity as well as global economic development.
To celebrate the official launch of the company, SCB Julius Baer releases The Wealth Report Thailand 2019 which was prepared based on data and information collected from 351 HNWIs in Thailand. The report found that Thai HNWI wealth is projected to grow at a five-year CAGR of 9.9% (2015-2020) or USD 401.2 bn. Drivers behind this growth include steadily growing household wealth, economic development and a buoyant property and stock market. The SET Index is forecast to reach 1,800 points by the third quarter of this year, while the country remains fiscally strong.
The survey findings indicate that 56% of HNWIs in Thailand are interested in wealth creation over wealth preservation which stood at 41%.They share a similar portfolio allocation to global HNWIs in liquid assets such as stocks, bonds and funds. However, the majority of these assets are in onshore investment products. Thai HNWIs are not as invested in Real Estate and Alternatives with a portfolio allocation of 7% and 6%, respectively, in these asset classes as compared to global HNWIs' 17% and 9%, representing an untapped opportunity.
Key findings


The SCB Julius Baer Wealth Report Thailand 2019 covers significant findings:
Slightly less than half of respondents hold at least one offshore investment. Of these, equities and fixed income are most widely held in investment portfolios, followed by funds and direct real estate.

Changing customer behavior towards investment, low penetration of investment products (especially offshore) and tax and regulatory changes underpin the opportunities to tap on the fast-growing Thai wealth market.

Three distinct client profiles were identified from the survey

The millennial entrepreneur

(up to 40 years old)

places a relatively high imprtance on digital financial services and prefers wealth creation over wealth preservation. Surprisingly, compared to the other two profiles, they have the least understanding of how to gain access to offshore investment opportunities.

The mature investr (41-60 years old)

is the mst educated of the three profiles and has a slightly better understanding of how to access offshore investments.
The techie retiree (lower than 60 years)

is the least familiar with ffshore investments and expresses the greatest desire to have their money professionally managed. Interestingly, they are the most social media savvy of the three profiles.

The report also focuses on Thailand's ranking in the 2018 Julius Baer Lifestyle Index, which is based on a basket of 22 luxury goods and services that represent discretionary purchases of HNWIs in the region.

Bangkk maintained its status as a relatively inexpensive city for shoppers, keeping at

7th

place amng 11 Asian cities in the past three years (2016 to 2018) in USD terms.

Luxury gods are more expensive in Thailand due to excise taxes on some imported luxury products,

whereas luxury services are generally well-priced due t lower operating costs in Thailand. T

hrwing an opulent wedding is the cheapest in Bangkok. However, shoppers undergoing lasik surgery, fitting for a men's suit, or purchasing
a bx of cigars would have to pay the most extravagant prices in the region.
"One interesting point from this survey is that the wealth management trend in Thailand has grown tremendously in recent years and this trend is expected to continue as the overall population grows wealthier. SCB Julius Baer sees a lot of opportunity in this market, especially when compared to other markets in the region. HNWIs in Thailand are more educated while regulation and policy allow for more convenience and efficiency in wealth management. Our research shows that Thai HNWIs are under-served and possess a keen interest in offshore investments. We, therefore, are committed to offering the right financial planning and creating wealth as well as providing sound consult and selecting high-quality world-class products that best serve our clients in Thailand. SCB Julius Baer believes that we will successfully help our clients achieve their investment goal," said Jiralawan.
**********************
About SCB Julius Baer
SCB Julius Baer is a strategic and pioneering joint venture established by The Siam Commercial Bank (SCB) and Julius Baer to bring the best of global wealth management to Thailand. The joint venture delivers the most relevant and impactful advice and solutions to the growing high net worth and ultrahigh net worth clientele in Thailand. It combines SCB's strong reputation and domestic expertise with Julius Baer's full offering of international wealth management capabilities for Thai clients in Asia.
For more information please contact +66 (0) 2 098 9999 or email contact@scbjuliusbaer.com
About The Siam Commercial Bank
The Siam Commercial Bank PCL is one of Thailand's leading universal banks. Established by Royal Charter in 1906 as the first Thai bank, SCB ranks number 1 in market capitalization among Thai financial institutions as of the end of December 2018 (Baht 454 billion). Its network of branches and service points offers nationwide coverage with 1,019 branches. (If investment centers, business centers, and service centers were to be included, the total number of branches would be 1,045). In addition, the Bank has 72 foreign exchange kiosks, and 9,621 ATM machines to provide services that meet the demands of all customer groups, including corporate, SME and retail customers. The Bank's total assets are Baht 3,187 billion. More information is available on the Bank's website at www.scb.co.th.
About Julius Baer
Julius Baer is the leading Swiss wealth management group and a premium brand in this global sector, with a focus on servicing and advising sophisticated private clients. At the end of 2019, assets under management amounted to CHF382 billion. Bank Julius Baer & Co. Ltd., the renowned Swiss private bank with origins dating back to 1890, is the principal operating company of Julius Baer Group Ltd., whose shares are listed on the SIX Swiss Exchange (ticker symbol: BAER) and are included in the Swiss Leader Index (SLI), comprising the 30 largest and most liquid Swiss stocks.
Julius Baer is present in over 25 countries and more than 60 locations. Headquartered in Zurich, we have offices in key locations including Dubai, Frankfurt, Geneva, Hong Kong, London, Luxembourg, Milan, Monaco, Montevideo, Moscow, Mumbai, Singapore and Tokyo. Our
client-centric approach, our objective advice based on the Julius Baer open product platform, our solid financial base and our entrepreneurial management culture make us the international reference in private banking.
For more information visit our website at www.juliusbaer.asia
**********************
For more information:               
SCB PCL.
Patsorn Koson                          email:
patsorn.koson@scb.co.th
                        Tel. 0 795 6250
Piyaporn Thipsoonthornsak        email:
piyaporn.thipsoonthornsak@scb.co.th
     Tel. 0 2544 6995
Ogilvy Group Thailand
Eakkapop Panthurat                  email:
eakkapop.panthurat@ogilvy.com
            Tel. 08 9676 6234
Saraporn Thitatarn                     email:
saraporn.thitatarn@ogilvy.com
                 Tel. 08 1806 3632  
Latest News