SCB Julius Baer Launches Groundbreaking The 45 Academia Initiative A New Direction for Wealth Stewardship for the Next Generation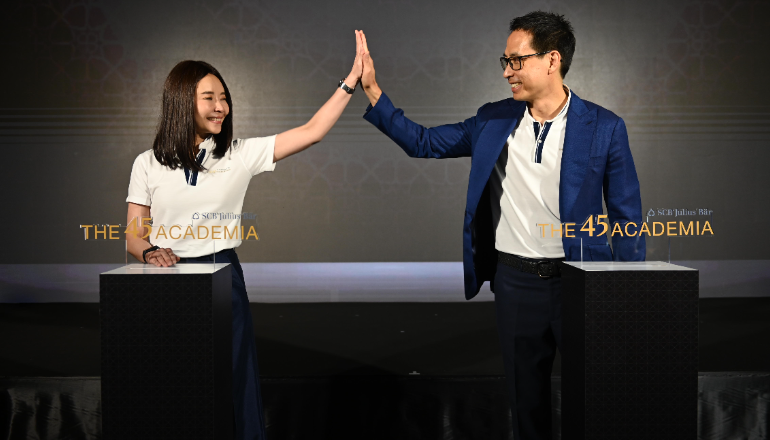 SCB-Julius Baer Securities Co., Ltd. is proud to announce its latest venture, the The 45 Academia program aimed at cultivating Leader of Tomorrow. This groundbreaking initiative is a core pillar of the Banks innovative New Wave of Wealth strategy, a comprehensive approach to serving Thailands ultra-high-net-worth individuals. Aimed at fostering the next generation of influential wealth leaders, The 45 Academia program is designed to develop business heirs and empower them with knowledge and expertise so that they can deliver significant social contributions in the future. The curriculum provides comprehensive training in wealth management and investment practices while integrating a critical self-development module. This unique aspect enables a seamless transition of wealth across generations, creating a blueprint for long-term sustainability.
In a bid to offer participants a rich, multifaceted learning experience, the program incorporates renowned CEOs and leading businessmen from Thailand and around the world as course advisors. In addition, the curriculum includes an immersive business trip to Switzerland, allowing participants to gain hands-on experience at the world-renowned Julius Baer headquarters. Furthermore, the International Institute for Management Development (IMD), a globally acclaimed institution, will facilitate practical workshops as part of the program.
"We understand the pivotal role of wealth transfer for Ultra-high-net-worth individuals in Thailand," comments
Ms. Lalitphat Toranavikrai, CEO of SCB-Julius Baer Securities Co., Ltd.
"Our 'Leaders of Tomorrow' program targets the next generation of business heirs, empowering them to become influential leaders who can positively impact society."
Adding to this sentiment,
Mr. Chanond Ruangkritya, CEO of Ananda Development PCL. and Dean of "The 45 Academia"
says, "Leadership in the current era demands adaptability and a dedication to lifelong learning. The 'Leaders of Tomorrow' curriculum is crafted to shape future leaders who extend their influence beyond personal wealth accumulation, focusing on generating innovative solutions that benefit society holistically."
Participants in the program will engage with senior wealth management professionals from Julius Baer and attend workshops hosted by IMD. This comprehensive approach ensures that the next generation is equipped with the requisite knowledge to sustainably grow their family businesses while adopting Environmental, Social, and Governance (ESG) best practices.
The "Leader of Tomorrow" team comprises industry stalwarts, including
Mr. Chanond Ruangkritya
serving as the Dean of the program,
Mr. Adrian Mazenauer
, Head of Wealth Management at SCB Julius Baer who has assumed the role of the curriculum director. They are joined by
Ms. Praiwan Dhungsunundhana
, Program Director of the SCB Julius Baer Academy and a distinguished team of advisors including
Mr. Chalermchai Mahagitsiri
, President and CEO of Thoresen Thai Agencies PLC.,
Dr. Karndee Leopairote
, Chief of Foresight and Digital Asset at FutureTales Lab, DTGO Group,
Mr. Rawit Hanutsaha
, CEO of Srichand United Dispensary Co., Ltd.,
Mr. Thana Thienachariya
, Chairman of The Board of Directors of Bluebik Group, and
Ms. Yupapin Wangviwat
, Deputy CEO and CFO of Gulf Energy Development PCL.
The "Leaders of Tomorrow" program is poised to provide the necessary tools and understanding for future business heirs to successfully manage wealth succession. This aligns with SCB Julius Baer's unwavering commitment to nurture future leaders who can effectively manage wealth and contribute positively to societal development.
Latest News